Happy Friday Fancies!
Each week, it seems like Friday comes a little slower, but once it arrives, I can't believe it's already here! Today, I'm linking up with four lovely ladies for Five on Friday, and sharing five fun things going on in my crazy life!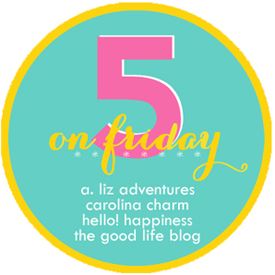 [ONE]
It's almost spring! Even though we've had a few deliciously warm days, I'm ready for spring to arrive in full force! Spring in Boone is my absolute favorite time of year because everyone is out, the temperature is perfect and I can wear fun outfits like this one! Seriously, I've been craving wedges for months!
[TWO]
I love the convenience of taking photos on my iPhone5, but sometimes it's nice to have a better quality photo, which is why I've decided to learn to use my Mom's DSLR Nikon 3100. The 3100 claims to be one of the best beginner DSLR cameras, so I'm excited to get started and see what kind of pictures it can produce. The other day, I took the sweetest pictures of Paisley playing in the snow! These two were my favorite!
Lately, I've been on a bit of a dress shopping spree. Surprised?! The one shown below is the Lilly Pulitzer Sullivan Dress in the You're Flagged print, one of my all-time favorites! I didn't by it when it came out about two years ago, and I've kicked myself ever since. When I came across an affordable one on Ebay in my size, I knew I had to have it! This is one of the few pretties I've purchased getting ready for spring. I can't wait for you to see the rest!
In case you haven't heard just yet, I re-decorated my living room, and what a difference it made! Thanks in large part to IKEA, Target and my Dad/Brother for setting it all up, my living room is now a place where I love to spend time! I'll be doing a whole post on the transformation very soon, but I had to show you all the gorgeous finished product!
It's no secret that I love Sarah Jessica Parker, and if given the chance to have a Cosmopolitan with her, I would absolutely oblige! Wouldn't we all?! Yesterday, thanks to
Carly at The College Prepster,
I came across the fascinatingly quick interview below, where SJP answers 73 different questions, and at lightning speed! If you're a fan of hers, you must check it out! It turns out she loves Coke just as much as I do, soul mates!
Have five things you'd like to share? Link-up and let us know!
Love what you're reading?
As always, Have a Sweet Day!