Happy Friday Y'all! It's unreal how happy I am to see the weekend. With school, work, Convocation, and everything in between, I'm feeling lucky to have made it through these last few days! Today, I'm linking up with a four lovely ladies for Five on Friday!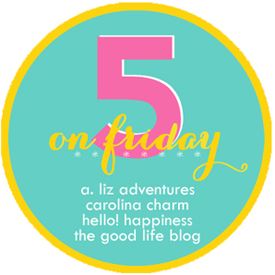 [ONE]
As of today, we are exactly two weeks away from my 23rd birthday! That means there's only 14 days standing between me and a trip to beautiful Charleston, South Carolina. I've bee to Charleston twice, but never really had time to explore and enjoy the city.
[TWO]
With a birthday comes
all types of fun craft projects!
Below are the cute personalized buckets that I made for the four girls that will be joining me in Charleston for my birthday weekend. Normally, I give out paper invitations, but this year, I wanted to try something a little more special. Each container will hold a birthday invitation, as well as some other cute items that I picked up for the weekend.
Last night, I had Sweet Frog with
Marcia & Don
(my second family,) and received my very first birthday present! Yes, two weeks early! They were so excited to give it to me that they couldn't stand to wait! I have been
lusting over this Lilly Pulitzer Pop bangle,
ever since it came out last spring. To be honest, I'd never seen one in person until last night! It will go perfectly with my other Pop items!
While I'm at home this weekend, my cousin Courtney and I are having a birthday-themed photo shoot! Not only am I excited to get dressed up and pose with cupcakes and candles, but later I get to use them in a fabulous birthday post on Sweet Like a Song. Courtney is also the person that took my
Fourth of July outfit post photos,
and did an absolutely fabulous job. I can't wait to work with her again!
[FIVE]
Recently, I've been buying quite a few things on Etsy. I love how Etsy always has items that are different, unique and something you probably weren't expecting to ever find! Here are two of my most-recent Etsy purchases, that I can't wait to get!
J.CREW Inspired C

olor Mix Statement Necklace

Handmade Gold Tinsel Stir Sticks
It's going to be a great mail day, when I come home to find these two cuties! I also picked up my birthday invitations on Etsy this year!
Have five things you'd like to share? Link-up and let us know!
As always, Have a Sweet Day!