Hello Everyone & Hello Friday!!!
When I leave work on Friday afternoon, it's a completely different feeling from leaving work every other day of the week! I can't wait for that feeling in just a few hours! I've got another exciting weekend filled with family and weddings, but in the meantime, here are my
FIVE favorite things
from this past week!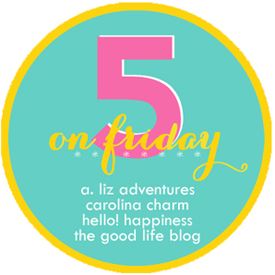 [ONE]
I finally went to a Lululemon store! After reading about
Stephanie's
love for Lululemon products, I had to see what all the fuss was about! Last Saturday, I tried on one of their sports bra, and fell in love! The Energy Bra in Blue Moon would be the perfect top for the Princess Half-Marathon next February. It has a ton of support for a long run, and is still super flattering! I plan on going as Cinderella, and it is the perfect color!
[TWO]
I've officially purchased my dress for Homecoming this year! At Appalachian, football is a big deal, and Homecoming is one of my favorite events! It's the perfect time to see all your favorite alumni and dress in your best black and gold! I think I'm most excited about this year's dress because it's different from anything that I've ever had before! Here are a few of my Homecoming outfits from years past!
I found out that I get to work closely with Convocation and Commencement again this year! This was huge news for me, and such a relief, that I can be super involved with something that I'm so passionate about! Convocation is on September 10th, while Commencement isn't until December the 14th!
The Kate Spade Surprise Sale was one of my favorite parts of this week! Luckily,
I saw a tweet from Summer Wind
to go check it out, and I'm so glad I did! Though I could have spent my whole paycheck, I did make out with one fabulous item! The Eat Cake For Breakfast Gia! Did you scoop up any new Kate Spade at 75% off??
[FIVE]
I have been looking for an announcement about the Lilly Pulitzer End of Summer Sale basically all summer long! If you've never participated in this sale, it's when most of Lilly's Summer clothing is on super sale, and you can scoop up all of those fun items you've been eyeing, but had waited to purchase! I saw yesterday that Lilly stores are saying the sale will go live on Monday, August 19th and last through the 22nd! Have you got your wish list made out? I know I do! The Lilly Goodie Goodie Necklace is one thing I've got my eye on!
Have five things you're loving this Friday? Link-up and let us know!
Happy Friday Y'all!