I have come across a couple finds recently that I think are just too cute! I am so excited to share them with you. I know these may seem a bit random, but finding something unique and new is so exciting for me. I am an avid shopper, so when I see something that makes me think "perfection," I just have to share it!
Lilly Pulitzer's Resort Chic Wedges in Metallic Leopard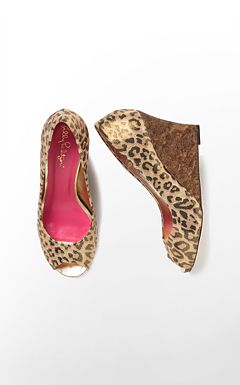 www.lillypulitzer.com
I absolutely LOVE these and think they scream SASSY! Lilly also sells them in a classic silver and gold, but the cheetah print is to die for. I don't have any just yet, but they're definitely on my to-buy list. These run about $200/pair.
Where I'm from, Lilly Pulitzer doesn't have its own store, but when I'm feeling adventurous, I travel to the nearest Palm Avenue. This is where I first saw my first Britt Ryan dress and fell in love! They use super fun colors and run about the same price as Lilly.
I didn't have a chance to try one on because I was in a hurry, but here are a few of my personal favorites:
Dresses are my passion and I think these would be perfect for any occasion. I love the colors and the styles. The classic ruffles and bows sealed the deal for me!
What do you think of these styles?
The most recent hair phenomenon are feathers! I can hardly go out without seeing someone with an assortment of these in their hair. For me, this was a stretch and not really my style. Then, I heard about hair tinsel! This can be put in, similar to feathers, but it's a bit more modest. If you've never seen the hair tinsel, here's an example:
I love this picture featuring the tinsel in Beyonce's hair. She is such a beautiful lady and the tinsel makes her hair pop. I'm not sure how much they cost, but I'm definitely going to look into it!
What do you think about these three awesome finds?